How To Make Roll-Up Camper Shell Curtains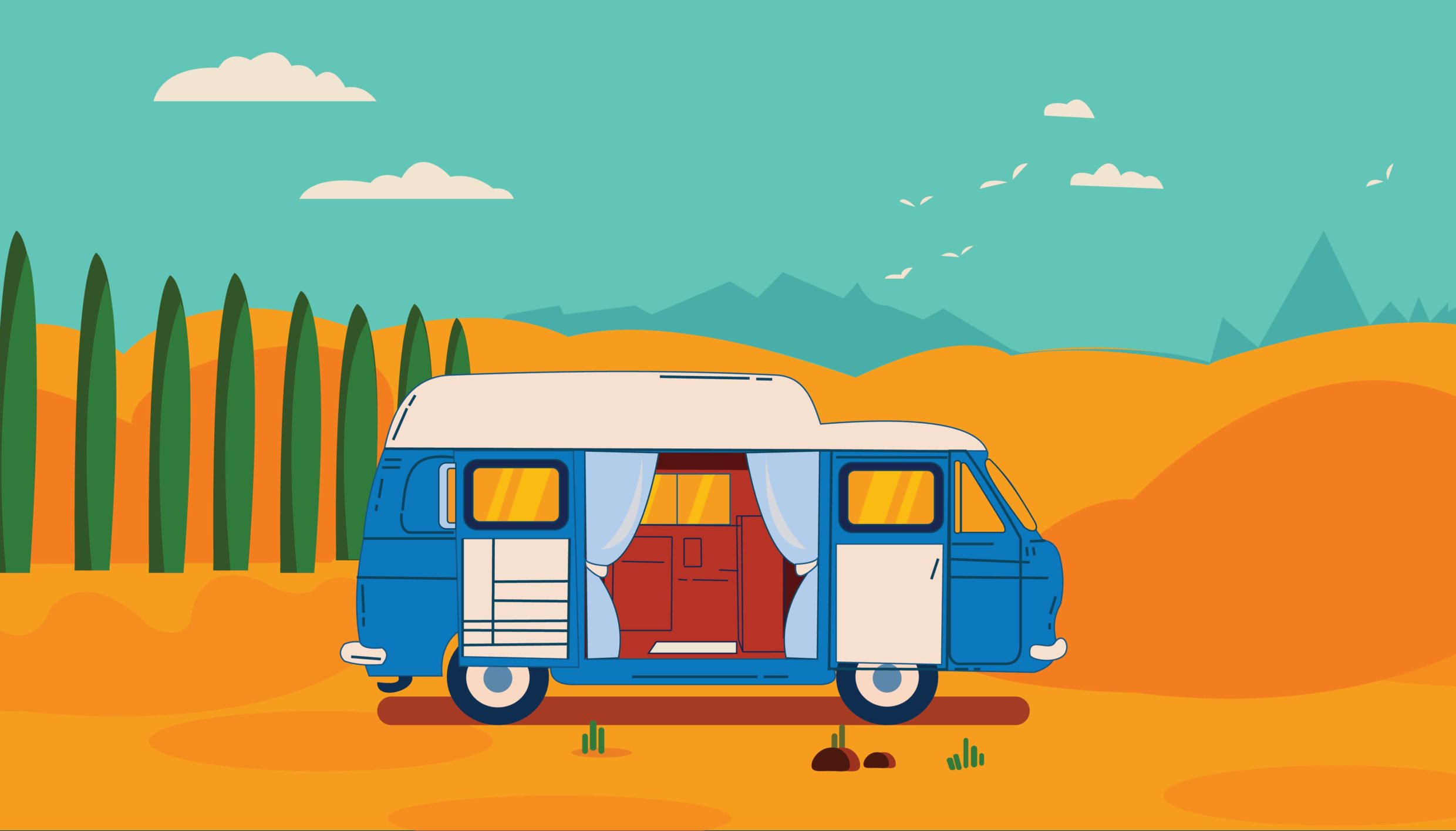 If you're someone who loves getting outdoors and spending time in the wild while still enjoying some of the comforts of home, truck bed camping offers the best of both worlds. Camping in a truck topper lets you feel close to nature while enjoying some protection from the elements.
But while a truck topper can provide some extra shelter, it's still typically thin and doesn't offer a lot of heat and cold insulation. Outside air can leak in even if you seal the shell with caulk or silicone. The windows can provide beautiful views of the scenery around you, but they don't give you a lot of privacy.
Adding some DIY curtains can help you feel more comfortable while you're out truck bed camping. Whether you want to build a camper shell from scratch or upgrade an existing one, making your own curtains is easy and can help your camper feel more like home.
Benefits of Truck Camper Curtains for DIY Campers
Hanging curtains in your camper is a simple change that provides some great benefits. Here are some reasons why you might want to consider adding curtains to your camper windows.
Insulation
Curtains offer a layer of protection from the heat and cold. Even light curtain materials help keep the space inside the camper from getting too warm on hot days. In colder weather, heavier fabrics can block cold air from filtering in through your windows.
Privacy and Security
Covering your windows may put your mind at ease because they make it harder for others to see inside your camper. You can enjoy more privacy, and your valuable belongings are hidden from view to lower the risk of theft.
Better Sleep
Window drapes can block out sunlight so that it doesn't disrupt your sleep. Light blocking may be especially important if you're somewhere far from the equator where the sun can sometimes set late and rise early.
These are just a few of the reasons why we think curtains are one of the best camper shell ideas we've heard. They're a great addition to any camper, and making DIY curtains is even better — it's easy, inexpensive, and the curtains can be customized to fit your windows. So we're going to show you step-by-step how to make your own roll-up curtains for your camper shell.
Before You Begin
Because you'll be making your curtains yourself, you can decide what kind of material you'd like to use. Which fabric you choose might depend on a few different factors, so here are some questions to think about before you get started.
How Much Insulation Do I Need?
If you're going to be camping in warmer environments, for example, you might want to go with lighter curtains, but if you're more of a cold-weather camper, you may want to use heavier material.
How Much Light Do I Want to Let In?
Light is another consideration. You may like to wake up with the morning sun, which means that thinner drapes could be a good option. Or, you might prefer blackout curtains that keep the light out.
What Shape and Size Are My Windows?
The windows in your camper shell might vary in shape and size. Make sure to measure all of your windows along their widest edges and choose a fabric that will cover them fully.
Taking these needs and preferences into consideration can help you choose the fabric that's right for you. Read on to learn about how to make a set of roll-up camper curtains.
How to Make Easy Drapes for Your Camper Shell
To get started, here are the materials you'll need.
Materials Needed
Your choice of fabric*
Measuring tape
Sewing machine or kit (including pins for hemming fabric)
Fabric Fuse tape (if you'd prefer not to sew)
12 – 20 bundling straps
Two shower curtain rods with mounts
Velcro**
UV sun fabric protector spray (optional)
*You can choose any fabric you'd like for your curtains. However, if you want to save yourself some work, you might consider buying fabric shower curtains for your side windows. If you go this route, you may want to choose the kind of curtains that don't require hooks to hang them.
** You'll be using Velcro along the upper and lower edges of your rear and front windows, and along the lower edges of your side windows, so measure all of your windows ahead of time to see how much you will need. We also suggest using different types of Velcro: industrial-strength adhesive Velcro for the "scratchy" side, and sew-on Velcro for the "fuzzy" side. Make sure to get the same length of "scratchy" and "fuzzy" Velcro.
Step 1: Install Shower Curtain Rod Mounts In Your Camper Shell
Use the screws that hold up your windows to attach shower curtain rod mounts along the upper edges of your side window frames. We recommend placing one at either end and one in the middle of the rod. All you need to do is take out a screw where each support will be placed, position the mount, and then replace the screw.
Utilizing these screws eliminates the need to drill holes in your shell. Camper shells can be expensive because of the materials used, so it's worth your while to preserve your investment.
Step 2: Adhere Bundling Straps to Your Truck Camper Shell
Gather 3-4 bundling straps for each window (you may need more if using a heavy fabric). Stick the adhesive above your side, rear, and front windows so that the "fuzzy" side of the Velcro faces outwards. Make sure to position straps so that there are two near either end of each window (a few inches in from the edges), and the other straps are spaced evenly between them.
Step 3: Attach Velcro Above and Below the Truck Camper Windows
Cut six long strips of "scratchy" adhesive Velcro to the following widths:
Lower edges of side windows (2 strips; 1 for each side of the camper)
Upper and lower edges of rear window (2 strips; 1 for each edge)
Upper and lower edges of front window (2 strips; 1 for each edge)
Stick each Velcro strip just above or below each window along the window frame's widest part for maximum adhesion. When working along the upper edges of your rear and front windows, you'll want to tuck your bundling straps beneath the Velcro.
Step 4: Prepare Side Window Curtains
The first step is to trim your curtains to the right width for your windows. We suggest measuring each window's width at its widest edge, then adding 2 inches to either side for the hem. Cut your curtains to the desired width, pin a 1-inch hem along either side, then sew hems.
Next, thread your curtains onto curtain rods. If you're using your own fabric, you'll need to sew the top edge of the material to create a wide hem that the curtain rod can slide through (and if you'd rather not sew, you can use fabric fuse tape instead). If you decide to use pre-made fabric shower curtains, you can skip this part of the step — the curtains should already have a hem or holes at the top for the rod.
Then, place the rods onto their mounts on either side of the camper to temporarily hang the curtains so that you can check their length. Pin up your fabric so that the bottoms of the hems go just ½ inch past the Velcro strips on the lower edges of your windows. Sew the hem in place.
Finally, measure "fuzzy" sew-on Velcro strips so they are the same length as your curtains' width. Pin Velcro ½ inch above the bottom onto the hems, then sew in place. Before sewing the Velcro, you may want to hang the curtains and check that the "fuzzy" Velcro matches up with the "scratchy" side on the edge of the window so that you can adjust it if needed.
Step 5: Prepare Curtains for Rear and Front Truck Camper Windows
For the rear and front window curtains, you'll follow a similar process to Step 4, but with a few differences. Where your side curtains will hang from the curtain rods, your rear and front curtains will be held in place by Velcro along the top and bottom edges.
Start by measuring all sides of your rear window. Cut a piece of fabric to the same size and shape as this window, adding 2 inches to all sides for the hem. Pin 1-inch hems around all edges and then sew or tape in place.
Next, pin "fuzzy" Velcro onto the upper and lower hems of your rear curtain and place it on your window to make sure the "fuzzy" Velcro lines up with the "scratchy" Velcro; make any needed adjustments and then sew Velcro in place.
Repeat this same process for the front window curtain.
Step 6: Spray Camper Shell Curtains with UV Sun Fabric Protector (If Using)
Step 6 is optional, but spraying a UV sun protector on your fabric can shield your curtains from sun damage and keep them in good condition. If you're going to the trouble of making your own curtains, it's worth doing this extra step so that you can enjoy your curtains for a long time.
Step 7: Hang DIY Camper Curtains In Your Truck Camper Shell and Enjoy
Now it's time to hang up your curtains and enjoy the fruits of your labor! You can kick back, relax, and enjoy the extra warmth and privacy of your drapes.
Simple touches like these will help your truck camper shell feel cozier and homier. To make your camper even more comfortable, check out our list of sleeping pads for truck camping.