10 Safety Tips for Going on a Road Trip with Your Newborn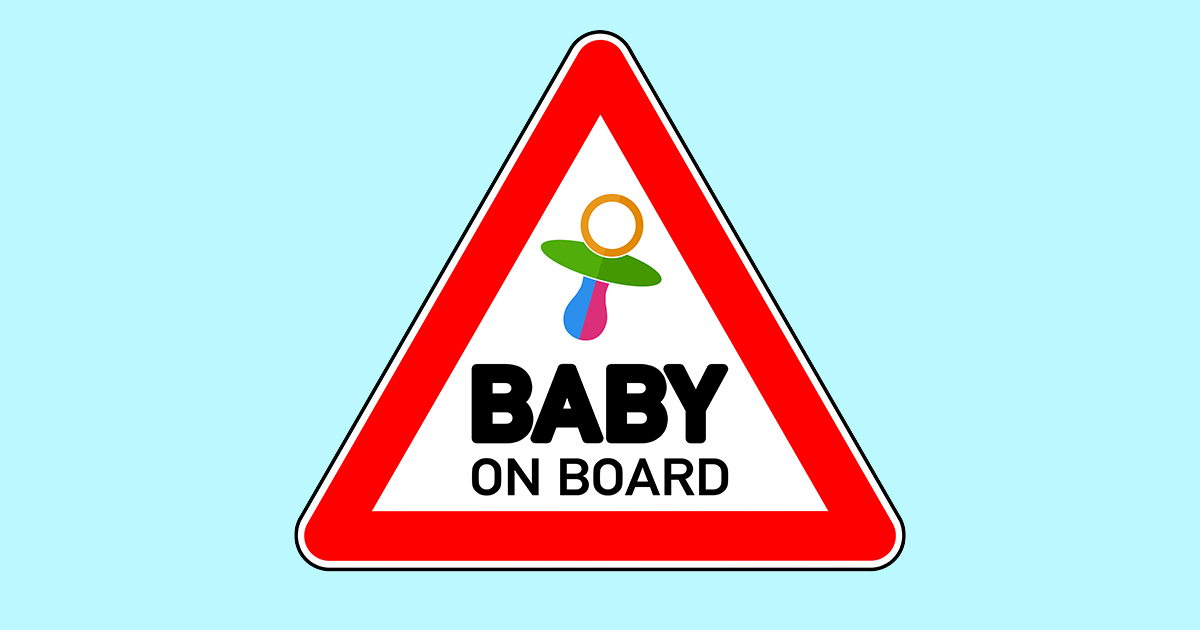 Parenting is constant hard work, and that's never truer than when you're learning how to care for your newborn. Most parents try to avoid traveling with their infant, instead opting to keep them safe and sound at home until they're a bit older. But, that doesn't need to be the case. Traveling with a newborn baby in tow can be a fun and beautiful experience.
Today, we're going to share some sage advice on traveling with a newborn baby learned through trial and error and countless trips with the kids. Whether you're wondering when is it safe to travel with a newborn baby, or you're just looking for some tips on how to make traveling with your baby easier, you're in the right place.
Work as a Team
Undertaking a road trip with a 1-month old baby by yourself is a harrowing task, so if at all possible, you'll want to bring your partner or a family member or friend along for the trip with you. Having a partner with you on your road trip means that you can take turns caring for the baby in the backseat while the other person drives.
The person in the back can keep the baby entertained, and take care of all the legwork that's necessary to keep the baby happy, like preparing bottles or changing a diaper. Working as a team can help you cut down on stops and avoid the dreaded "total meltdown" situation where nothing seems to comfort your baby.
It's also a good idea for the person in the back to get some rest whenever the baby knocks out for a nap. That way, they'll be well-rested when it's time to switch roles and take over the driving.
Budget Plenty of Time
Parenting a newborn means that there will always be surprises that pop up, costing you time in the process. Plus, basically everything you do with a newborn is more time-consuming than doing it yourself. Be sure to budget some extra time when you're taking a road trip with a 6-month old baby.
It's like clockwork, whether it's a poorly timed poop as you're getting ready to leave a rest stop, or a particularly cranky morning that you and baby need to work through, there will always be something to jam you up. By budgeting plenty of time for yourself, you'll be able to handle all those unforeseen surprises without having to stress about being late.
Drive at Night if You Can
Driving overnight isn't the most comfortable prospect on vacation, but it can pay serious dividends for your road trip if you're able to make it work. Since the baby will presumably be sleeping at night, this represents a window of peace and quiet that you can use to make some serious headway on your journey.
The less you disrupt the baby's routine, the better off you'll be when it comes to driving at night. Go through all of your usual nightly rituals with your baby, and when you would regularly put them down for bed, that's the time to put them in their car seat and hit the road. With any luck, they'll stay asleep through the entire night, and you'll take out a huge chunk of driving.
Don't Take the Road Less Traveled
When it comes to road trips, so much of the fun of driving cross country is discovering fun new places off the beaten path. But when it comes to a cross country road trip with a newborn,, you'll want to stick to the highways as much as possible.
With the back roads, gas, food, and rest stops are few and far between, which isn't conducive to traveling with a child. Stick to the main roads, and you won't have any issue finding places to stop when you need to.
It's also helpful to take a look at the map ahead of time to plot out potential stops ahead of time, which is another way to minimize surprises on your trip.
Keep Everything You Need Within Arm's Reach
No matter how much time you sent packing the perfect suitcase, it won't do you any good if it's locked in the trunk or buried beneath tons of other baggage. Make sure you have all the necessities you'll need at the ready for your road trip with a 4-month old.
You don't have to have an entire suitcase of baby supplies sitting next to you in the backseat. It's better to have a small bag or backpack that's packed with small amounts of your most needed supplies. Here's a shortlist to help you get started:
A changing pad and a few diapers
Pack of baby wipes
A few favorite toys
A baby thermometer
Infant Tylenol
An extra blanket
You'll know best what else to add to your emergency bag, but these six items are the perfect ones to start with.
Take Extra Precautions
When you're traveling with a baby, it's critical that you're even more careful than you usually are. When you're traveling with friends (or at least a car full of adults), unforeseen challenges or hiccups like a flat tire can end up being fun team-building exercises. When you're traveling with an infant, you'll want to minimize risks like these as much as possible.
Before you head off on your trip, Have your car checked by your mechanic to ensure everything is in perfect working order. Be sure that you have a spare tire that's aired up and ready to go, a jack, or at least a can of fix a flat. Also, make sure that your car isn't overpacked, so your view isn't obstructed when you check your mirrors.
Make Extra Pit Stops
If things are going right, it's tempting to keep pushing on for as long as you can, but taking regular breaks will pay off in the long run.
Stopping regularly allows you to give your baby a change of scenery and a quick cuddle session, which should improve their mood. Plus, anyone who has ever taken a road trip with a 3 month-old can tell you, they want to eat all the time.
A quick pit stop allows you to keep your baby fed, dry, and content, so they're less finicky when you get back on the road.
Attach Sun Blinds to Your Back Windows
We all hate driving with the sun in our eyes, especially newborns. A few sun blinds on the back windows will save you hours of grief, and make for a much less cranky baby.
Not only will sun blinds help keep the sun out of your baby's eyes, but it will also prevent them from overheating, which is something that's a serious concern when you're traveling with a newborn.
Be Prepared to Reach Into Your Bag of Tricks
When you're road tripping with a newborn, you aren't just a driver or wingman; you're also an entertainer. How well you're able to juggle these roles will have a definite effect on how smoothly your road trip goes.
You can set yourself up for success by making sure you have a few of the baby's favorite toys nearby to break out whenever they're getting finicky. You'll also want to brush up on some favorite sing-a-longs to keep the baby entertained for long enough to get you to your next stopping point. When all else fails, a tablet or cell phone with some baby-friendly content should be able to buy you some time.
Learn Some Baby Massage Techniques
After about an hour in the car, the road begins to take its toll on you. Your back and butt hurt from sitting for so long, your legs hurt from not being able to stretch, and it's not a very enjoyable experience. Keep in mind that the little person in your car is going through the same thing you are.
Learn a few massage techniques to keep your baby's legs and feet loose and comfortable, and you'll be able to keep the baby content so you can keep pressing on.
Know When to Call it a Day
There's plenty to be said for the grin and bear it approach to a road trip, where you keep pushing no matter how tired or cranky you are. But when you're with the baby, this is an approach you'll want to avoid.
There's no shame in shutting down and taking a break for a little while, or giving up on the day altogether so you can get a room and rest up for the next day. Whether you're taking a break for a short while or for the rest of the day, it's a much-needed chance for you and the baby to rest up so you can get back on the road when the time is right.
Conclusion
A road trip with a newborn can be a beautiful experience for parents and baby, provided you take some steps to ensure you're well prepared for the journey. Whether you're planning a road trip with a 2-month old, or your baby is a little older, following the advice above can help make the experience more fun for everybody.