Eating on the Road: Best Foods to Bring on Your Next Road Trip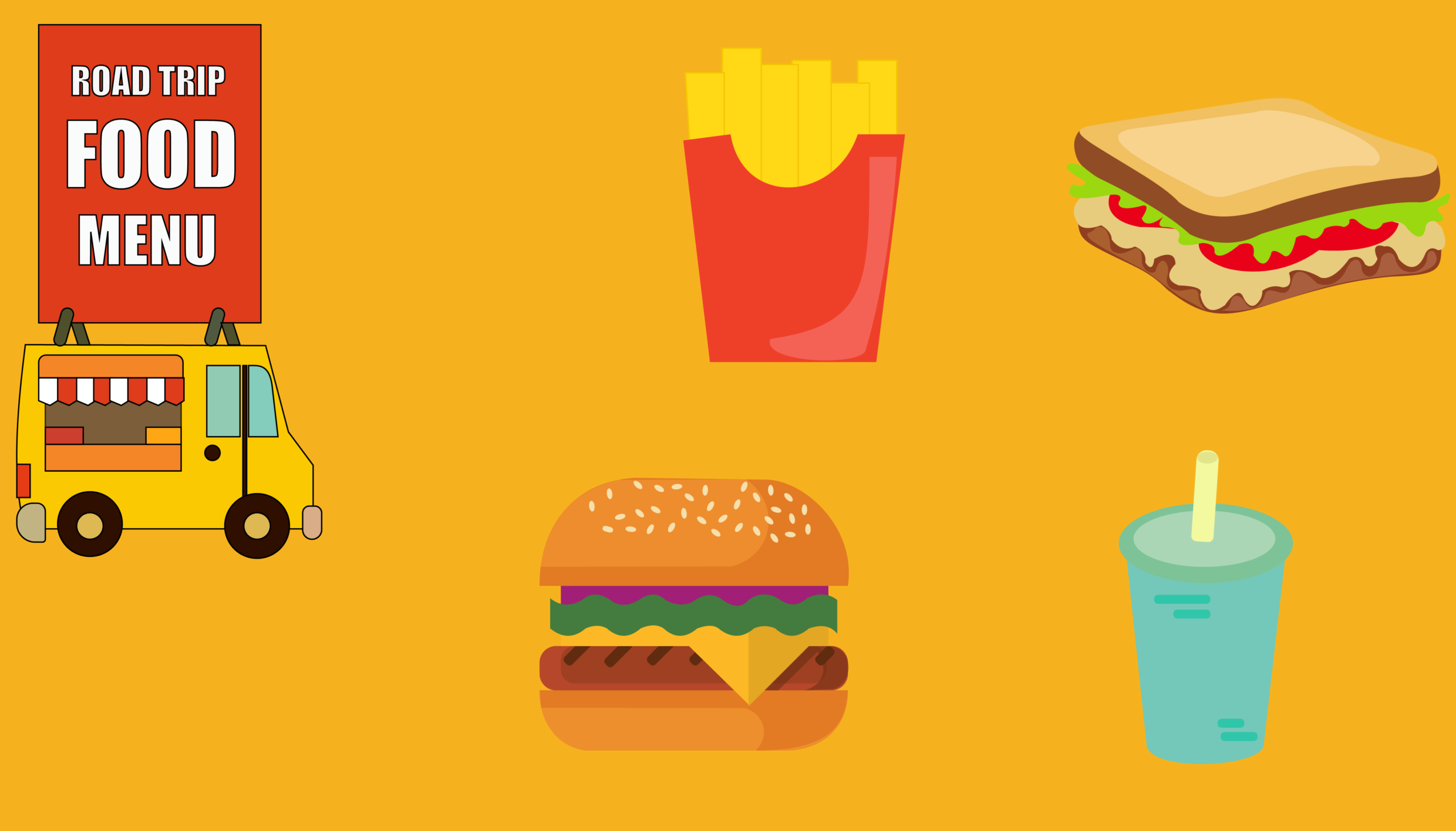 Road trips can be an incredible time and a great bonding experience for friends and family. There's nothing like hitting the open road with your crew in the car and heading off to build memories that will last a lifetime.
If there's one downside to road trips, it's that eating well can be extremely difficult without some careful planning. Unless you pack healthy snacks and meals for your crew, you'll stop off for greasy fast food a few times a day and lose valuable time on the road in the process.
Today, we'll cover everything you need to know about eating on the road, and we'll share some of the best road trip food ideas, so you can keep your squad fueled up with the good food they need to keep the fun going all road trip long.
Road Trip Sandwiches
Road trips and sandwiches go together like peanut butter and jelly. Sandwiches usually aren't the most exciting things to pack for the ride, but they get the job done. We have a bunch of creative and nutritious sandwich ideas that are perfect for your next road trip with family or friends.
Deli Sandwiches
Deli sandwiches are easy to make, and there's such a variety to choose from, everyone should be able to find something they love. They're also relatively economical to make. Pick up a few of your favorite cold cuts and some cheese, and put sandwiches together for your whole crew.
Here are a few deli sandwich ideas to help you get the creativity flowing:
Turkey, Swiss, and mayo
Bologna and Cheese
Roast Beef and Cheddar with Horseradish Spread
Feel free to get creative and add some vegetables or even fruit to your sandwiches for textural contrast and extra flavor. There's no wrong way to make a sandwich for your road trip, so go for whatever you like.
Peanut Butter Sandwiches
While a PB&J may seem a bit more enticing, jelly doesn't travel well on a sandwich. Instead, go with peanut butter only and some hearty bread that will stand up to hours in the cooler. Feel free to sub out the peanut butter for your favorite nut butter, if you prefer.
If you'd prefer peanut butter and jelly, bring a small squeeze bottle of jam with you and add it to the sandwich before you eat it, so it doesn't get soggy.
Mozzarella, Tomato, and Red Pepper Pita Pockets
This classic appetizer also makes a great sandwich for the road that's easy to make and hearty enough to stand up to the rigors of the road. Add some basil, arugula, and balsamic glaze to make this tasty sandwich even more delicious.
Cream Cheese, Olive, and Pepperoni Wrap
This sandwich falls into the "don't knock it 'til you try it" category. It may seem a little weird, but it's delicious, and it travels well on long car rides. Spread a thin layer of cream cheese on a warm tortilla, add the other ingredients, roll it up, and wrap it to go. It's that simple!
Roadtrip Sandwich Tips
When it comes to sandwiches for the road, making a few small tweaks to your usual go-to's is usually all it takes to turn any sandwich into the perfect lunch for a road trip.
You'll want to avoid ingredients with high moisture content, like tomatoes, and also avoid watery condiments such as oil or Italian dressing, because they'll turn any sandwich into a soggy mess after they've been sitting in the cooler for a few hours.
Soft sandwich bread is one of our favorites, but it doesn't hold up as well on the road as sandwiches made from heartier bread, like a baguette, roll, wrap, or pita.
Stock up on individual packs of your favorite condiments and add them to your sandwiches as necessary. That way, you won't have to worry about prepping special sandwiches for anyone who is finicky about condiments, and your sandwich will never get soggy.
Healthy Road Trip Meals
Sometimes, you need a bit more than just a sandwich. Or, you'd like to add something on the side to make your meal more filling. The recipes and tips below are perfect for throwing together quick and healthy road trip meals.
Rotisserie Chicken and a Salad
Rotisserie chicken is one of our go-to's for eating on the road because they're widely available, affordable, and satisfying. Prep your chicken ahead of time by pulling the meat from the bone, and portion out the pulled chicken with a hearty salad for each plate you need to make.
Add whatever vegetables you like, put some low-fat dressing on the side, and you're ready to enjoy a filling and healthy meal on the road whenever you're ready. If you happen to have a microwave at your disposal, you can heat the chicken, but it's actually quite good cold.
Protein-Packed Pasta Salad
Making a loaded pasta salad is a great way to make a healthy and filling meal on the road. Instead of treating the pasta salad as a side dish, add protein to it to bulk it up and make it a more filling option for lunch or dinner.
We recommend adding chunks of grilled chicken or another protein like pepperoni or summer sausage, chickpeas, and loads of vegetables with a light dressing to keep yourself full and energized without relying on unhealthy food from a rest stop or fast food place.
Cold Pizza
It may not be the most glamorous choice of all, but cold pizza certainly gets the job done when you need to put food in your belly while keeping the train moving forward. Pizza is also one of the easiest meals around. Buy a pie, let it cool, wrap each slice in tin foil, and you've got an easy dinner on the go that you can enjoy without stopping.
Crudités
One of the best snacks to have handy when you're on a road trip is crudité, a selection of raw vegetables with the dip of your choice. Not only are raw veggies delicious on their own, but when you pair them with some peanut butter or a healthy dip, the taste is tough to beat.
Chop some veggies and portion them out in sandwich bags to pack in the cooler. You can either bring some dips with you or pick them up at a convenience store or rest stop when you pull over to stretch your legs and recharge.
Road Trip Grocery List
Packing the right foods for a road trip all begins with putting together the perfect grocery list. If you shop the same way you would usually shop at home, you'll waste lots of time prepping snacks and meals, and you'll probably make quite a mess in the process. Instead, shop with your trip in mind, and you'll be well on your way to a cooler full of great road trip meals and snacks.
Dry cereal (makes a great snack)
Fruit
Yogurt tubes
Beef jerky
Vegetables (carrots, celery, peppers, and other snackable veggies)
Peanut-butter or cheese sandwich crackers
Single serving snacks (chips, pretzels, etc.)
Trail mix (or ingredients to make your own)
Instant coffee
Bottled water
Soft drinks
Ice packs
Tortillas, wraps, or pitas
Cold cuts
Peanut butter (single serving packs are perfect for dipping veggies or fruit in)
Condiments (single serving packs are best if you can find them)
Rotisserie chicken
Pouches of tuna
This list should serve as a great starting point for you. Everyone's list should look different, so be sure to add all of your family's favorites to your list to make sure everyone gets what they want on this road trip.
Make-Ahead Meals for a Road Trip
Making meals ahead of time for your trip is the perfect way to save time and eliminate prep work and added mess when eating. Of course, being on the road doesn't always lend itself to making things ahead of time, but here are a few tips for make-ahead meals for a road trip.
Bundt Cake Egg Sandwiches
This fun breakfast is the perfect meal to throw together ahead of time before you head out on the morning of your road trip. I usually make the frittata portion and the bread ahead of time and heat them up quickly the morning of so they're ready to go, and everyone can start their trip off with a warm and hearty egg sandwich. You can find the recipe here.
Supreme Omelette Squares
This quick and filling breakfast is so easy to put together on the morning of your trip, and the supreme omelet squares are delicious when they're warm or at room temperature. It may look like a lot of work, but if you buy pre-cut vegetables, you can put this delicious breakfast together in about five minutes. Best of all, it's hearty enough to eat one-handed in the car. Get the recipe here.
Protein-Packed Road Trip Mix
Trail mix is a no-brainer for long car trips. A pre-made trail mix is a perfect grab and go option, but making it yourself is a great way to save money. Plus, you'll be able to add all your favorite ingredients while passing up on anything you don't like.
Here are some ingredient ideas to get you started:
Peanuts
Almonds
Cashews
M&Ms
Chocolate/peanut butter/white chocolate morsels
Raisins
Toasted coconut shavings
Sunflower seeds
Dried fruit
Pepperoni Mini Calzones
From the pizzeria right to your car, these pepperoni mini calzones are the perfect companion for staying fueled up during your road trip. You can make a batch right before you leave and wrap them in foil, and they'll still be warm when you reach for them at lunchtime. But, they're also awesome cold, so you can pop them in your cooler and enjoy them whenever you like.
Check out the recipe for these delicious mini calzones here. Keep in mind; you can always sub out the pepperoni to make a vegetarian-friendly version, or you could replace the pepperoni with the protein of your choice.
Salad in a Jar
Prepping some salad before your trip is a great way to ensure you have a delicious and healthy meal to enjoy on the road. The key to making the salad more potable for the road is to assemble them in a cup or jar instead of in a bowl.
Add your favorite salad ingredients to a cup or jar and throw them in the cooler. When it's time to enjoy your salad, add the dressing of your choice, put the lid back on, and shake it up to evenly dress the whole salad.
Peanut Butter & Jelly Bars
A classic PB&J sandwich isn't the most road trip-approved food out there, as the jelly tends to make the bread soggy and gross long before you have an opportunity to eat your sandwich. With this recipe, you'll be able to eliminate the bread, replacing it with protein-packed peanuts and rolled oats.
Chocolatey Ovenless Cookies
One of our favorite make-ahead treats for a road trip is these delicious (and surprisingly healthy) cookies that you can make in minutes without the help of an oven. You can make these cookies the morning of your trip and enjoy them on the road. Or, if you're really embracing the road trip lifestyle, you can make them from a hotel or rest stop, all you'll need is some hot water.
These cookies are perfect for the kids and anyone who is watching their figure because there's no added sugar or butter in the entire recipe. Not only are they healthier, but you'll also be able to avoid the dreaded in-car sugar rush if you're traveling with the kids, and they eat a few too many.
Final Word
Eating sensibly when you're on a road trip is hard work. But, with a little ingenuity and some planning before your trip, you'll find that it's easier than you may think to come up with some great road trip food ideas.