Camper's Guide to the Grounds of Florida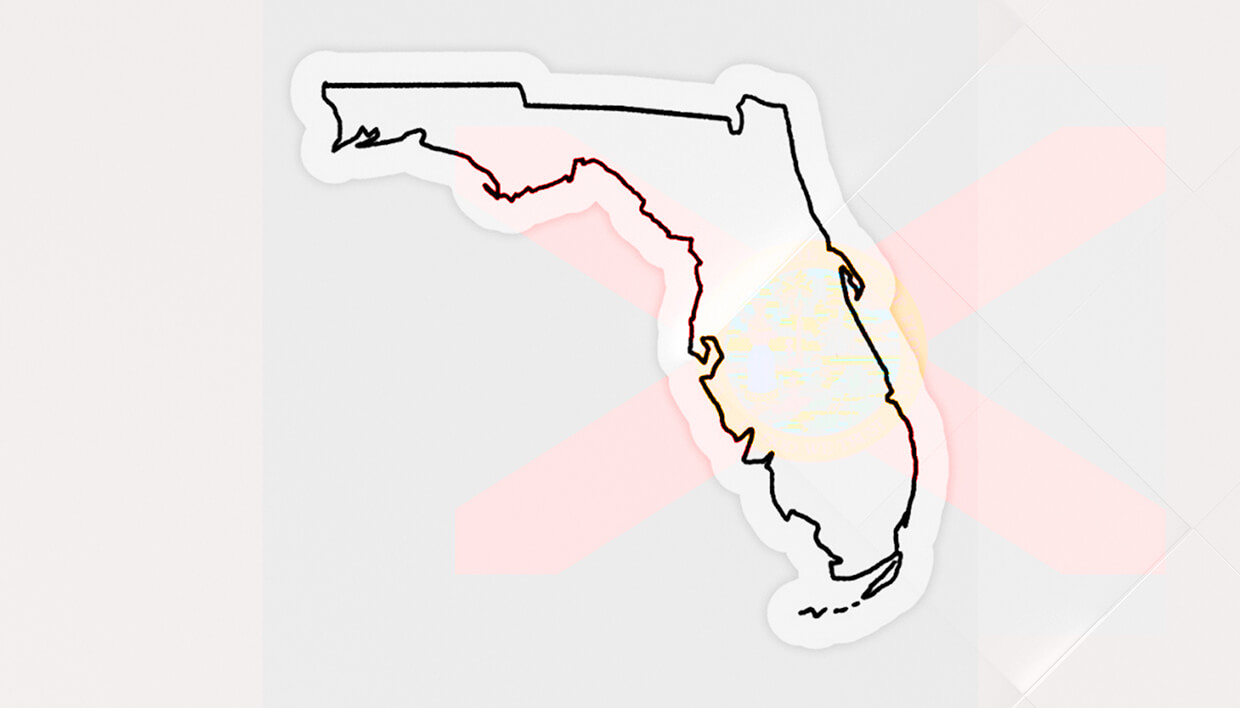 It's no secret why northerners and southerners love flocking to Florida during the chilly winter months. Unlike most of the country, Florida boasts a humid subtropical climate throughout the year. For tent campers and RV'ers, the hot weather and sandy beaches make Florida a sought-after camping destination the world over.
If you're searching for the best camping locations in Florida, read on. Below, we'll take a deep dive into the top paid, free, and dispersed campsites in the Sunshine State.
Best Campgrounds in Florida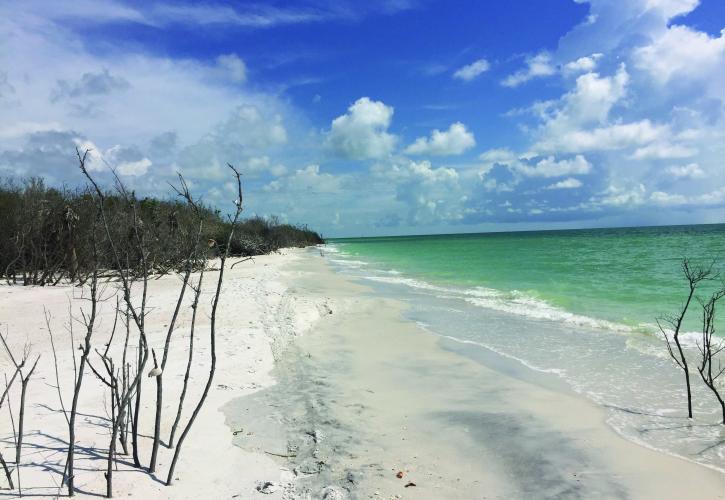 Caladesi is an undeveloped island on the Gulf Coast—one of the last of its kind. Although this island is accessible only by boat, camping on Caladesi Island is well worth the effort. On this island, you can find unforgettable forests, a beautiful marina, and sprawling beaches that look like paradise.
There are few places left in the United States that offer a camping experience quite like Caladesi Island. If you're looking for world-class canoeing, kayaking, and even sunbathing, consider taking your family to Caladesi for your next vacation or weekend getaway. You won't be disappointed—in fact, you'll be itching to come back next year.

Hours:
8 a.m. to sundown 365 days a year

Fees:
$6 per boat

Location:
Offshore Island, Dunedin, FL 34698

Contact:
(727) 469-5918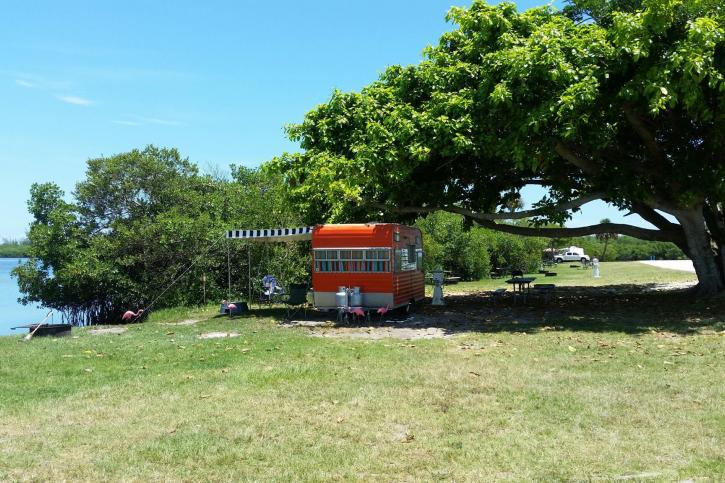 Located in the heart of sunny Brevard County near the Sebastian Inlet ecosystem, Long Point Park is one of Florida's hidden gems. Featuring countless affordable shoreline campsites, Long Point Park offers a family-friendly camping experience for campers in tents or RVs. Other amenities at Long Point include picnic tables, playgrounds, and a stocked wildlife pond.
New washroom facilities have recently been installed at Long Point, and a full RV dump station has also been constructed. Laundry facilities are available on-location, as well as a pavilion for social gatherings and a fish cleaning station. The various fishing and angling amenities at Long Point Park make it one of the most sought-after fishing destinations on the Atlantic coast.

Hours:
8:00 a.m. to 9 p.m. Monday to Friday

Fees:
$28+tax

Location:
700 Long Point Rd., Melbourne Beach, FL 32951

Contact:
(321)952-4532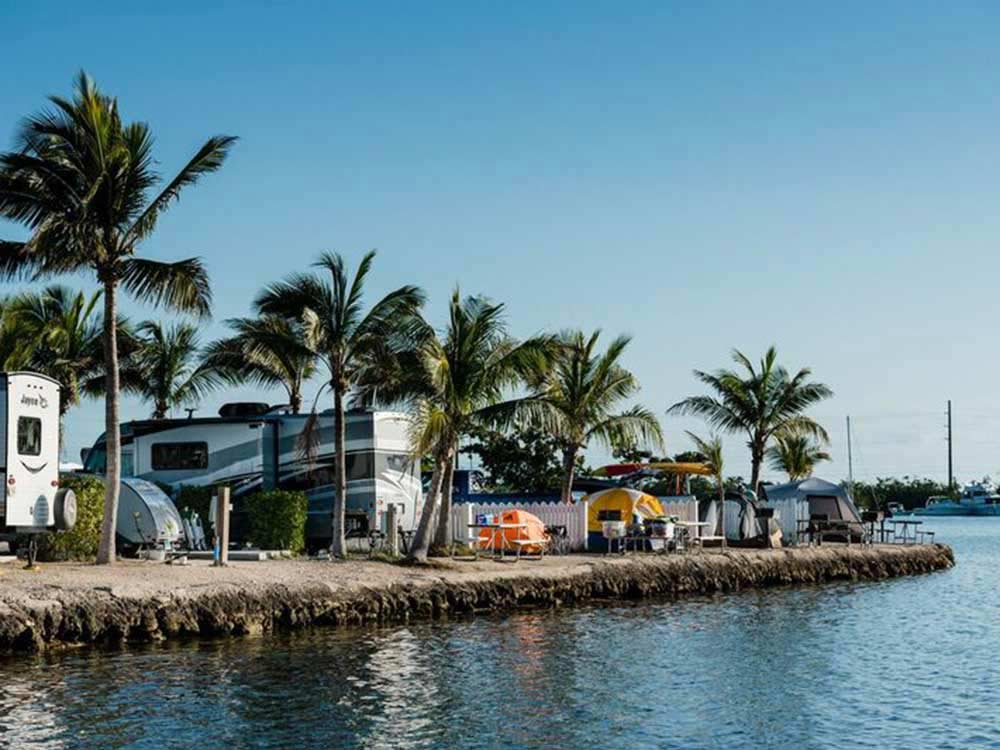 For years, Boyd's Key West Campground has provided families with a world-class camping experience at the edge of America. At Mile Marker 5, Boyd's Campground lets visitors see and do everything in the Florida Keys, including surf, kayak, fish, sunbathe, or hike the various trails in the area.
There are many amenities at Boyd's to keep solo travelers, couples, or families entertained throughout their stay. At Boyd's, you can find poolside tiki huts, free wi-fi, flush restrooms, a hot tub, a games room, paddleboard and kayak rentals, and boat ramps. Together, these amenities combine to provide an exceptional camping experience in the far south of Florida.

Hours:
8 a.m. to 10 p.m.

Fees:
$2,790 for 4-month stay

Location:
6401 Maloney Ave., Key West, FL 33040

Contact:
(305)294-1465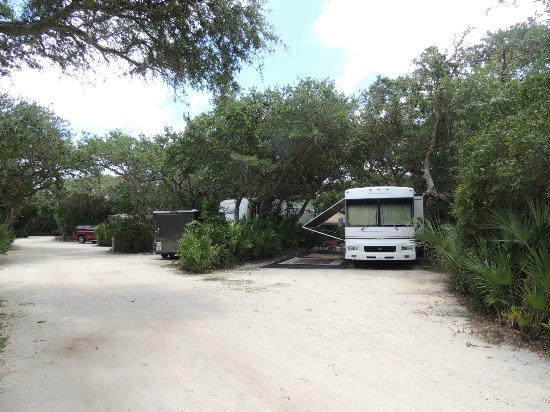 Located on 30 acres of wooded shoreline, North Beach Camp Resort provides a family camping getaway experience in North Florida. At North Beach, there are mossy oak and palmetto trees that provide shade while you overlook the sandy shores of the Atlantic. Plus, the campsite is situated only 4.5 miles away from downtown St. Augustine.
Whether you are RV camping or tent camping, there is plenty to see and do at North Beach. For instance, campers can enjoy area attractions such as Castillo de San Marcos National Monument, the St. Augustine Colonial Spanish Quarter, or the Matanzas National Estuarine Research Reserve—all of which are a short drive from your beachside reservation.

Hours:
N/A

Fees:
$50 nightly tent site

Location:
4125 Coastal Hwy, St. Augustine, FL 32084

Contact:
(904) 824-1806
Best Dispersed Camping in Florida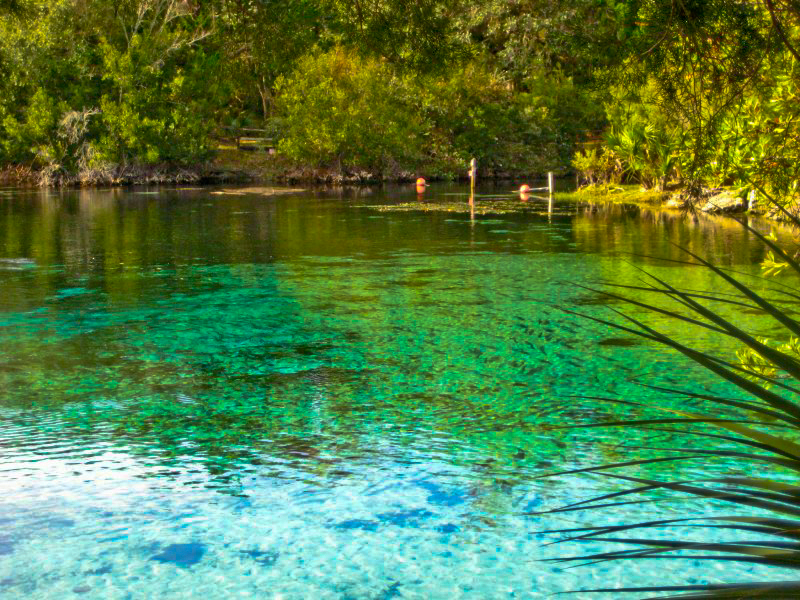 Solitude and privacy are the two main selling points of Ocala National Forest. Here you can find forests and creeks far away from any other campers, allowing you to explore the outdoors without interruption from hikers or cyclists. There is a 14-day limit on your stay in Ocala National Forest, but this should offer plenty of time to take in the many sights and sounds of the area.
There are no restrooms in the forest, so all waste must be packed out. However, there are picnic tables at tent sites and there are several camping spots that are located near scenic lookout points. Tourists from all over the country come to Ocala Forest to enjoy total immersion in nature and excellent hiking loops and trail systems.

Hours:
N/A

Fees:
N/A

Location:
17147 E. State Road 40, Silver Springs, FL 34488

Contact:
(877)444-6777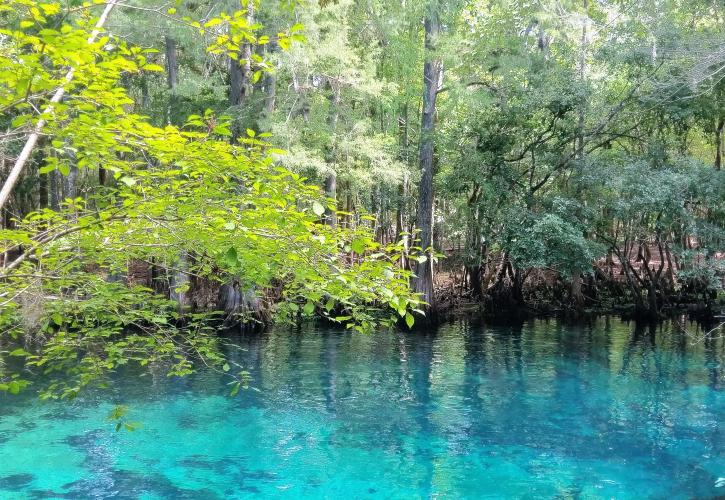 There are few campgrounds in Florida that can compare to Manatee Springs State Park's number of amenities. Located a short distance from Gainesville, Manatee Springs is known for its world-class hiking, scuba diving, swimming, snorkeling, boating, mountain biking, and wildlife viewing. There are primitive camping locations and private campgrounds available on-site.
At Manatee Springs campers can enjoy solitude deep in the surrounding forests, or they can embark on guided tours of the premises. There are RV dump stations and glamping tents available that can make the experience at Manatee Springs more enjoyable for car campers. There is potable water available at most Manatee Springs campsites.

Hours:
8 a.m. to sundown

Fees:
$20 nightly + $6.70 reservation fee

Location:
11650 NW 115 St., Chiefland, FL 32626

Contact:
(352)493-6072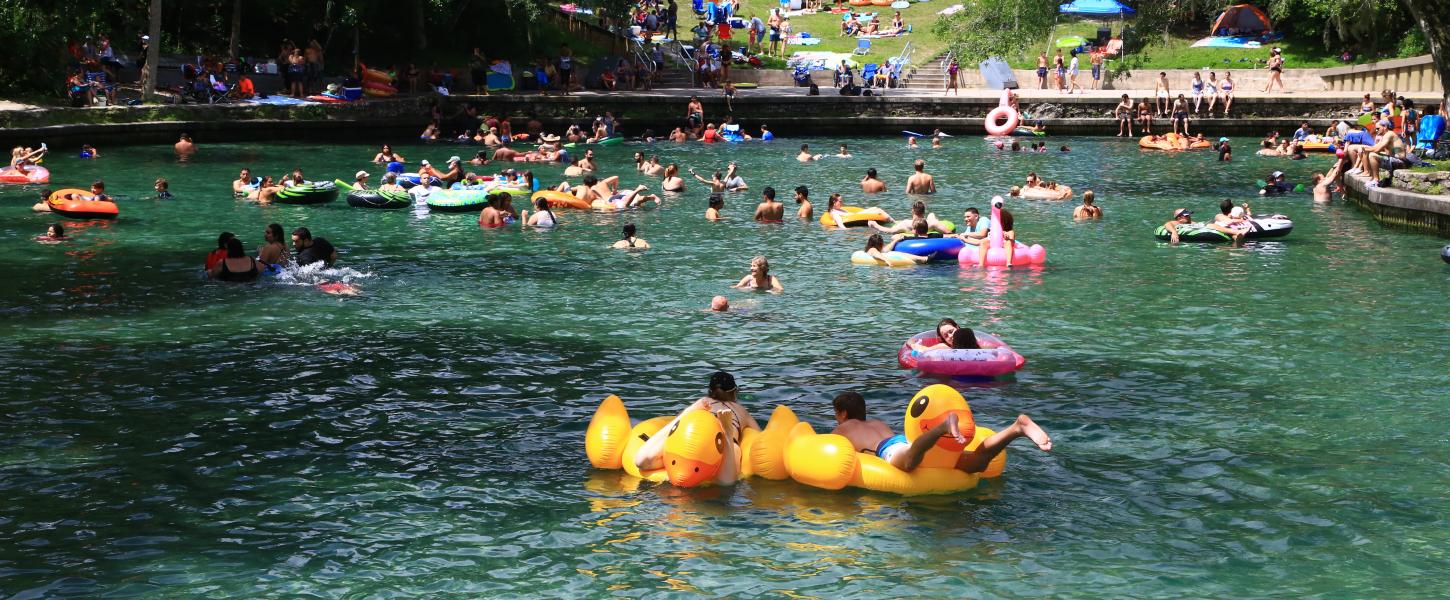 Situated only minutes from downtown Orlando, Wekiwa Springs State Park is one of the most unique camping attractions in the Sunshine State. On one hand, campers can opt for the Flamingo Campground where they can enjoy several luxury amenities such as playgrounds and hot showers. On the other hand, dispersed camping deep in the woods is also available.
At Wekiwa Springs there is an extensive trail network that lets campers explore the grounds by horseback, mountain bike, or on foot. Plus, dispersed campers can enjoy solitary canoe or kayak rides through the forest's many rivers and creeks. Wekiwa has long been regarded as a wildlife viewing attraction and a popular retreat for animal lovers.

Hours:
8 a.m. to sundown

Fees:
$24 nightly + $6.70 reservation fee

Location:
1800 Wekiwa Cir., Apopka, FL 32712

Contact:
(407)553-4383
Best Free Camping in Florida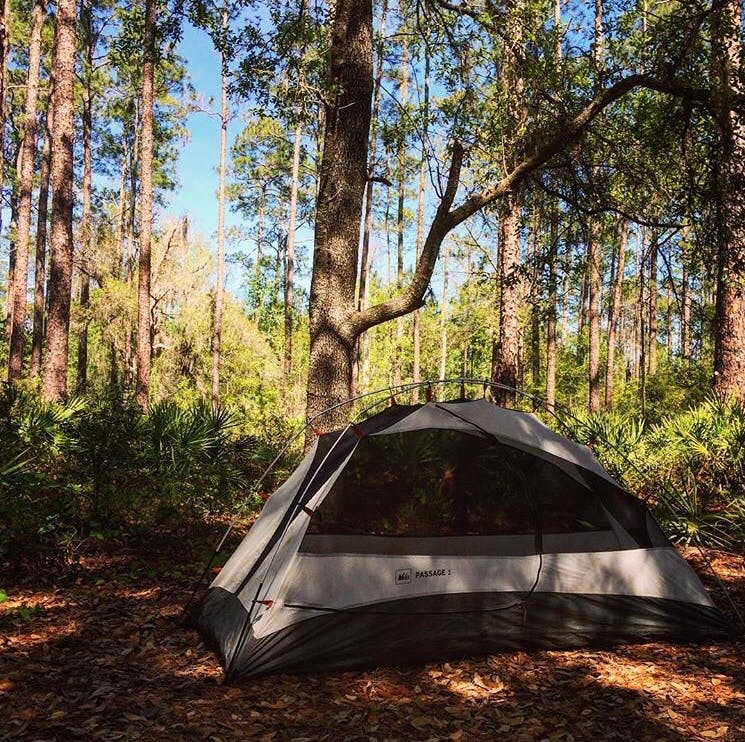 The Seventeen Mile Hunt Camp is a primitive camping destination for north Floridians. At Seventeen Mile you can find free campsites that are usually occupied by hunters during the gun season (November to January). There are vault toilets and parking available, but no RV sites on the premises. The campsite is located within Osceola National Forest.
The grounds at Seventeen Mile Hunt Camp feature topographical elevation up to 150 feet, which overlook sand dunes in the far distance, as well as the Myakka River. Located on the Florida-Georgia state line, the Seventeen Mile Hunt Camp is a free campsite that boasts excellent hiking loops through the dense woods.

Hours:
N/A

Fees:
N/A

Location:
24874 US-90, Sanderson, FL 32087

Contact:
(386)752-2577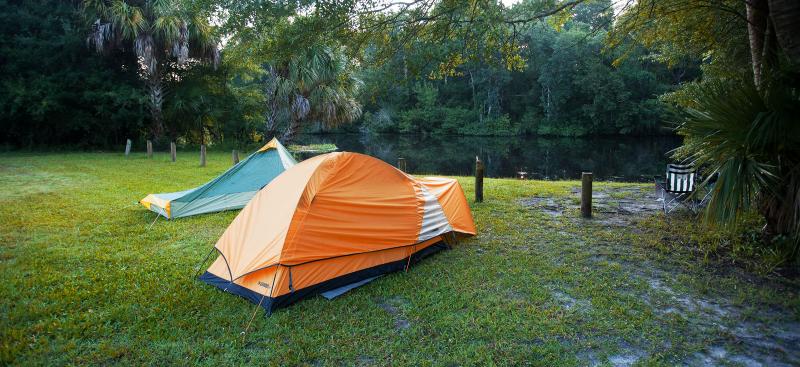 Potts Preserve is a state conservation zone that protects important marine and wetland species. At Potts Preserve there are expensive river systems, as well as the Tsala Apopka Chain of Lakes. The Chain of Lakes provides many opportunities for campers to enjoy canoeing and kayaking the Suwannee River in peace and quiet.
Campers should note that Potts Preserve is home to critically endangered species, which require the utmost respect of visitors. Therefore, all waste products must be packed out of this camping site. The conservation area is also a popular destination among hunters and equestrians who often stay in nearby Fort Clinch.

Hours:
Sunrise to sunset

Fees:
N/A

Location:
2700 Dee River Rd., Inverness, FL 34453

Contact:
(352)796-7211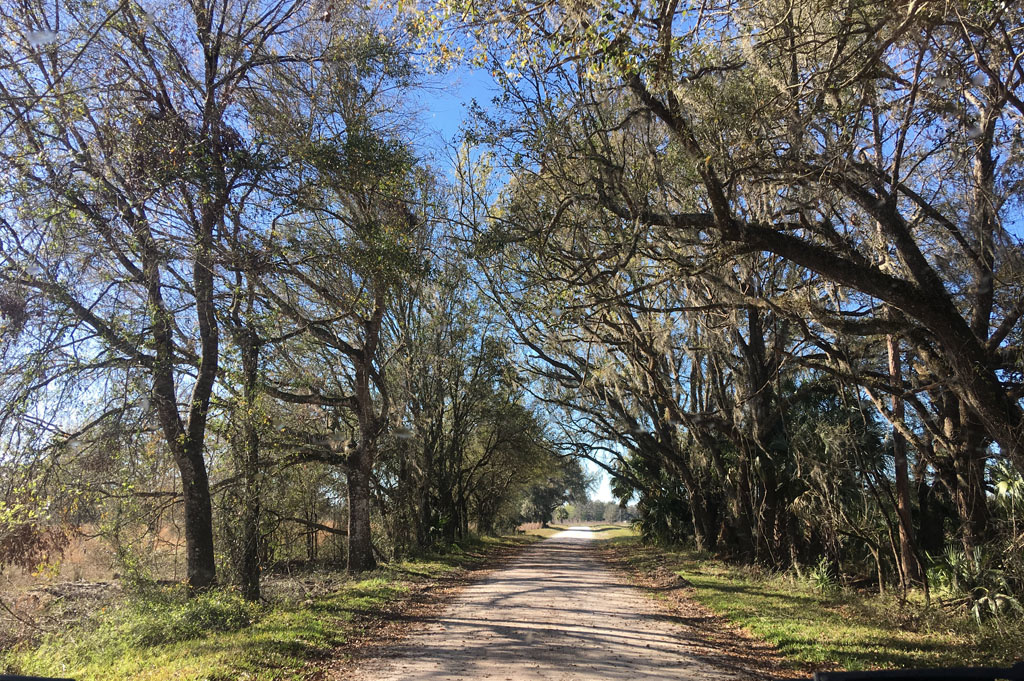 The Green Swap West Tract is publicly-owned land that presides over a whopping 37,350 acres. These protected lands offer some of the finest hunting, fishing, mountain biking, bird-watching, and paddling opportunities in the state of Florida. There are over 65 miles of trails that can be explored by campers or cabin dwellers.
While there is no heated pool at this campsite, visitors can embark on some of the most exotic wetland marsh hiking in the area. Located near Fort Wilderness, Green Swamp West Tract is a nationwide destination for Florida RV campers on a budget and those looking for free camping with hookups and other amenities.

Hours:
Sunrise to sunset

Fees:
N/A

Location:
13347 Ranch Rd., Dade City, FL 33525

Contact:
(352)796-7211